Thousands visit Plymouth's Derriford Hospital open day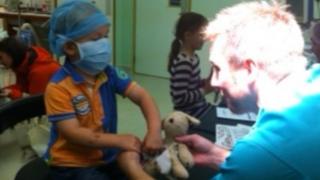 Thousands of people have visited the South West's biggest hospital on its first open day for more than 10 years.
Derriford Hospital in Plymouth threw open the doors of areas not usually seen by the public - including an operating theatre.
Plymouth Hospitals NHS Trust said the open day had been a "massive success".
Chief Executive Ann James said Derriford was given the chance to demonstrate the "fantastic work that goes on day in, day out".
'Open and transparent'
She said it was important for members of the public to know Derriford was "their hospital and their community" so they felt part of it.
"We want to be a very open and transparent organisation which really embraces the input from our public, our patients and our staff," she told BBC News.
As well as visiting an operating theatre, people could also inspect the "blue light" area used by emergency services, including ambulances and visit a teddy bears' hospital created in the children's unit.
Visitors were given a colour-coded map of the hospital which covers about 200,000sq m over 12 levels and within an hour of the doors officially opening at 10:00 BST, the hospital said it had welcomed nearly 1,000 people.
Amanda Nash, head of communications, said: "We are absolutely delighted with the number of people who came along today and with the early feedback we have received.
"Lots of visitors had particular areas in mind that they wanted to visit and others were happy to go with the flow and wanted to see as much as possible."
The hospital said the operating theatres, fracture clinic and maternity unit were among the most popular areas.