Barnstaple bouncers patrol streets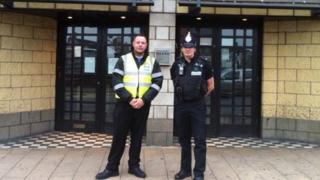 Nightclub bouncers are being paid to patrol the streets of a Devon town to help prevent violent disorder.
The street marshals, as they are known, monitor Queen Street in Barnstaple between 03:00 and 04:00 on a Friday, Saturday and Sunday when most of the trouble happens.
The three-month trial is being funded by North Devon Council and Fever Boutique nightclub.
Alcohol is believed to fuel much of the anti-social behaviour.
An estimated 800 people attend the club on Thursdays, Fridays and Saturdays.
'Over exuberant'
"People go out, have a few to drink, then there are disagreements over getting a taxi and people getting upset about waiting for food," PC Paul Daw, neighbourhood beat manager from Devon and Cornwall Police, told BBC News.
"General anti-social behaviour creeps in because people are a little bit over exuberant."
He said Queen Street acts like a "funnel" for hundreds of people who leave the nightclub at the same time making their way to the town's bus station, taxi rank and fast food outlet.
"It's an epicentre where people tend to congregate at the end of the evening," he said.
Street marshals have no arrest powers, but they do have radio communication with the police who can view alleged anti-social behaviour on CCTV.
Brian Jarvis, head doorman at Fever Boutique and chief marshal, said patrolling Queen Street was simply "an extension" of the job he does at the club.
"I'm stopping anti-social behaviour, getting in amongst people to make sure they behave and can feel safe in a nice environment," he said.
"There will be less trouble because more people can relate to us because we've been with them all night, made friends and struck up a rapport with them."
Vikky Whitworth, manager of Fever, said the club takes its responsibility to the town very seriously.
"We want to make sure customers can get home safety and minimise any incidents that may, or may not, occur outside," she said
North Devon councillor Yvette Gubb said she hoped the scheme would be as well received in Barnstaple as it has been in other parts of the country.
"As well as identifying and resolving potential incidents, the high visibility patrols will also go some way to offer help and reassurances to other members of the public," she said.
The pilot scheme will run until 2 January, after which data will be analysed before any decision is taken about making it permanent.