Britannia Royal Naval College in Dartmouth freedom parade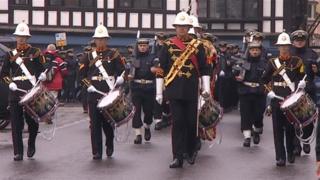 More than a 100 officers and cadets from Britannia Royal Naval College have marched through Dartmouth.
It is the first time in more than 50 years the college has exercised its right since being given the town's "freedom of entry" in 1956.
Capt Jerry Kyd said it was the highest honour a town could bestow.
Freedom of entry means service personnel can parade through Dartmouth "with swords drawn, bayonets fixed, drums beating and colours flying".
"It dates back to medieval times when allowing an armed body of men to enter a town or city was a demonstration of trust," Capt Kyd said.
"It seems fitting, therefore, that in the year that marks the 150th anniversary of the start of naval training on the River Dart, that we should be re-affirming the strong links between the college and the town in this way."
Fifth generation
The parade, led by the band of the Royal Marines, included a ceremonial guard of honour.
Also taking part in the parade was Master-At-Arms Richard "Ted" Heath, who was raised in Dartmouth and whose father, uncle, grandfather and great grandfather also served in the Royal Navy.
"My family has been connected in one way or another to Dartmouth and the college for many years," he said.
"It is always a pleasure to be part of any evolution that shows the local community the core values and standards of the Royal Navy, however the experience will be enhanced knowing the association that my family has with the town."
The salute is being taken by the Mayor of Dartmouth, Councillor Paul Allen.
"From its earliest days in 1286, our town has predominately supported service to the Crown, initially with the supply of ships and sailors for the Crusades," he said.
"As its 689th mayor, I take great pride on behalf of all my predecessors in being part of this great event which points towards a very positive renewal of friendship between the Crown, the Royal Navy and our inhabitants."