Newlyweds jailed after honeymoon burglaries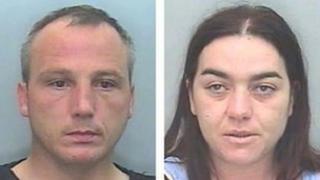 A newlywed couple who began their honeymoon by ransacking the home of a pensioner have been jailed.
Gary Young and Amy Marshall, from Hartlepool, were in Torbay, Devon, when they broke into the home of an 81-year-old widow and raided a caravan.
Young, 41, and his 29-year-old wife both admitted two burglaries.
Young was jailed at Exeter Crown Court for three years and two months and Marshall for one year and two months.
The only time the couple have seen each other since the offences has been in court.
They were arrested within hours of breaking into the house after being caught on CCTV trying to use the woman's stolen bank cards.
'Ransacked home'
The couple were on honeymoon at the Suncrest Hotel near Paignton seafront when they raided the nearby house and the caravan at the Ashvale Caravan Park on 27 August.
A family spotted Marshall climbing out of the bottom door panel of their caravan and escaping in his wife's Volkswagen Bora with £120 of their holiday money.
A few hours later the 81-year-old widow was disturbed by Young, who claimed to be a carer sent to check on her.
The court heard he ransacked her home, opening drawers in front of her as she sat helpless in her chair.
The couple left with all her bank and credit cards and her mobility scooter key.
They were arrested hiding in undergrowth after returning to the same address in the early hours to try to burgle it again. Marshall had the cards on her.
Young, who was on a methadone programme before his holiday in Devon, was only freed from a three-year sentence months earlier.