Dando-obsessed mental health patient Jason Kerswell held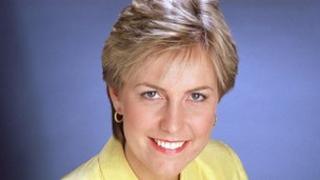 A mental health patient terrified a woman and her elderly father when he entered their home and ranted about Jill Dando, a court has been told.
Jason Kerswell, 41, of Captain's Road, Kingsteignton, had previously been banned from ranting at strangers.
He admitted two breaches of an anti-social behaviour order (Asbo) in Teignmouth and Newton Abbot.
At Exeter Crown Court, Judge Erik Salomonsen remanded Kerswell in custody for psychiatric reports.
The judge said although Kerswell had accommodation and mental health support, it was arguable his behaviour was becoming more serious.
'Staring eyes'
Janice Eagles, prosecuting, said since being made the subject of an Asbo in 2011 - which included not to cause alarm or distress to strangers - Kerswell had been in court three times for breaking its conditions.
She said the latest victim, Susan Law, was at home in Teignmouth with her 86-year-old father when an "angry and agitated" Kerswell walked in through a door which had been left slightly ajar during the hot weather in July.
"He was agitated, fidgeting and speaking quickly - his eyes were staring and he was angry," Miss Eagles said.
The prosecutor said Kerswell spoke about BBC TV presenter Jill Dando, who was shot dead on her doorstep in London in 1999.
He also "disgusted" Ms Law with lewd and suggestive behaviour, the court was told.
In a separate incident, Kerswell went into a pub in Newton Abbot where he alarmed customers with his ranting and threatened the manager when he was told to leave.
Nigel Wraith, defending, said his client suffered from paranoid schizophrenia and was keen to receive greater support from the mental health services.
Judge Salomonsen said it was a troubling case and requested an updated probation report.