Jail for drugs gang ringleader from Torbay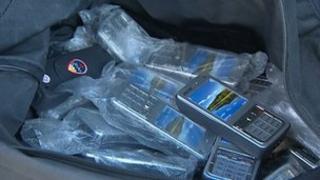 A drug gang leader has been jailed for 12 years after what is believed to be the largest seizure of prohibited stun guns in the UK.
David Morrison, 40, of St Lukes Road South in Torquay, was a "significant player" in bringing Class A drugs to the streets of Torbay, a court heard.
Exeter Crown Court heard the weapons were capable of discharging 1.2m volts - more powerful than police Taser guns.
Five other members of his gang are also serving prison sentences.
'Awful weapons'
Morrison - who has previously spent more than six years in a Brazilian jail for drug smuggling - admitted conspiracy to supply Class A drugs, the possession of stun guns, and possession of criminal property.
During a surveillance operation in 2011, Morrison was seen selling the potentially lethal stun guns, disguised as mobile phones, in order to buy the large quantities of cocaine.
In total, Devon and Cornwall Police seized 68 stun guns and more than £100,000 in cash from the gang, who had travelled to Liverpool to buy drugs. They also found 0.5kg (1.1lbs) of cocaine described as 62% pure.
Other members of Morrison's gang included:
John Minchinton, 34, of Kings Drive, Brixham, admitted conspiracy to supply Class A drugs and possessing a prohibited weapon, and was sentenced to 10 years.
Neal Musk, 35, of Paris Road, Paignton, admitted conspiracy to supply class A drugs, and was sentenced to six years and eight months.
Simon Parker, 38, of Meadford Lane, Torquay, admitted to possession of criminal property and possession of drugs with intent to supply, and was given three years and eight months.
Robert Daley, 49, of Kirby, Liverpool, admitted conspiracy to supply Class A drugs, and was given two-and-half years.
Charlie Small, 33, of Sandringham Road, Newton Abbot, admitted possession of prohibited weapons, and was sentenced to 14 months in prison.
Defending, David Evans, told the court Morrison's experiences in a Brazilian jail had an "enormous psychological effect" on him.
On his return to the UK, Morrison turned to alcohol and drugs, he added.
Mr Evans said Morrison would "buy and sell almost anything" and stressed that none of the stun guns were kept by Morrison, none of them had been used by him and they had "not been sold with intent".
He added that his client admitted he was making thousands of pounds, but said he was not making tens of thousands.