Boy unhurt as 'runaway car' rolls down a hill and crashes in Plymouth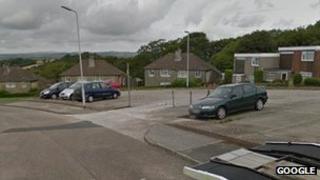 A four-year-old boy has had a "miraculous escape" after he released the handbrake of his mother's car, which rolled downhill and hit another vehicle before crashing into a flat.
The boy was "shook up" but unhurt in the crash, which happened at 08:30 BST in Whitleigh, Plymouth.
Police said his mother had left him alone for a "split second" while dropping off another child.
PC Steve Dykes said it could have been "a much more serious incident".
The car was parked on Aylesbury Crescent when the boy released the handbrake.
As it rolled downhill it clipped a parked car, police said. It then went down a grassy bank, across a footpath, through a hedge and towards some flats.
'Don't do it again'
"It went into the main building of the ground floor flat, coming to a rest just below the front room window," Mr Dykes said.
"Thankfully there were no injuries to anybody, it was a miraculous escape."
The car was left with cracks to the bumper, the front headlight and the windscreen. Police said both airbags were deployed.
It had travelled about 60m (196ft), police said.
The boy was examined by paramedics at the scene.
Mr Dykes said: "He was little shook up, thinking the police were going to take him away.
"He's been told not to do it again and mum has been advised to put the car in gear in future."
The tenants of the flat were at work at the time. Police said it is not believed there is any structural damage to the flat.