Tesco plans prompt protest march in Westward Ho!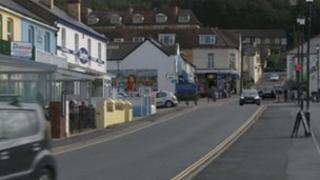 More than 100 campaigners have taken part in a protest march against plans to build a supermarket in a North Devon village.
Tesco hopes to open a store in Westward Ho! but many residents fear it could force local traders out of business.
The company said the Tesco Express - planned for an old amusement arcade - will provide more choice for consumers.
After the march about 250 people attended a public meeting about the proposals.
Village businessman Nick Laws said: "The village feels it will lose its identity.
"We all accept the role of the supermarket, but what I can't understand is why they want the 'top-up shop', they want everything.
"Here we've got two bakers, a butcher - their days are going to be numbered."
James Wiggam, from the supermarket chain, said: "We're looking to provide additional choice.
"The traders in Westward Ho! are very strong and we wouldn't expect our store to compete directly with the local butchers and bakers."
Mr Wiggam said the store could attract additional customers to the village.