Greenpeace worker Alex Harris's mother talks of fears for daughter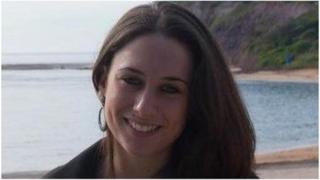 The mother of a 27-year-old Greenpeace worker held by Russian authorities has described how coastguards fired "guns and mortars" on protesting activists.
Alex Harris was on the Arctic Sunrise ship when it was seized last Thursday.
Thirty of the crew, including Devon engineer Iain Rogers, are being held at gunpoint, according to Greenpeace.
Ms Harris' mother, Linda - from Dolton in Devon - said she had not heard from her daughter since an email last Wednesday and fears for her safety.
The ship was seized after four activists tried to board a Russian oil platform to prevent drilling activity and is being taken to Murmansk said Greenpeace,
Ms Harris works for Greenpeace in communications.
Mrs Harris said: "Alex emailed us when the activists were captured to say she was safe and well," she said.
She said her daughter had described how Russian coastguards started shooting guns and mortars into the air when activists tried to get at the oil platform.
The next day the ship was stormed by security officers.
Schools meals worker Mrs Harris, 55, said her daughter had a "passion for wildlife" and had been working for Greenpeace for about two years.
It was the first time Ms Harris, who now lives in Australia, had been on a Greenpeace campaign.
"She was very excited about this trip," her mother said. "She was hoping to see polar bears - she did not envisage this sort of thing would happen.
"It is worrying for us. I am just hoping everything turns out for the best."
Iain Rogers' mother, hospital librarian Sue Turner, 62, from Exeter, said: "He has a good sense of humour so he will be coping.
"I'm pretty sure they are being treated OK.
"But he doesn't like small spaces, so he will be itching to get out."
The ship was seized in the Pechora Sea near oil company Gazprom's rig.
Russia's Investigative Committee announced on Friday it was formally considering charges of piracy - something Greenpeace denies because of the peaceful nature of the protest.
The Gazprom project is Russia's first effort to extract oil from the Barents Sea.
Greenpeace is campaigning against attempts by companies to extract oil from the waters of the Arctic, warning a spill would be highly environmentally damaging and that extraction of more fossil fuels would add to climate change.