Row over Dartmouth parking proposals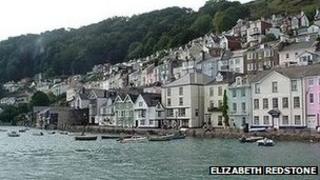 People in Dartmouth are objecting to proposed changes to town parking.
At the moment, maximum stopping time restrictions only apply during the summer months.
Devon County Council is looking to impose year-round restrictions from August 2014, and also to cut about 50 spaces.
Protesters said the proposals were being "inflicted" on them. The council said all views would be considered before a decision was made.
'Motorised musical chairs'
The riverside town, which relies heavily on tourism, only has one car park.
Residents said they accepted the need for restrictions during the summer months because of high numbers of tourists and traffic.
But they added that cutting spaces and imposing limits for the rest of the year would affect residents and damage businesses.
Teddy Cranmer, from the Residents Opposed Parking Enforcement (Rope) group, said, if introduced, people were "going to have to play motorised musical chairs all through the year instead of just in the summer".
He said: "These [changes] are being inflicted on us and we're angry."
A three-week consultation into the proposals closed on Friday and a 1,000-signature petition against the plans was given to the council last week.
Devon County Council said no decision had been taken, and all comments received would be considered.
Plans in 2010 to introduce year-round pay and display parking in the town were withdrawn.