Torquay terrorism manual man walks free from court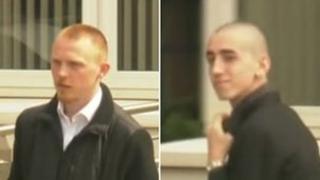 A man who downloaded an al-Qaeda training manual and a document by Norwegian mass killer Anders Breivik has walked free from court.
John Roddy, 20, from Torquay, Devon, previously admitted possessing documents containing information useful to terrorism, at Exeter Crown Court.
He also admitted sending threatening messages and damaging a mosque. He was given a suspended sentence.
Tobias Ruth, 19, arrested with Roddy, was jailed over threatening messages.
Mosque damage
Both men were arrested after a number of properties around Lymington Road, Torquay, had to be evacuated when "suspect items" were reported to police in January.
The area, between Upton Road and Upton Hill, was closed for about five hours. Bomb disposal experts and the fire service were also called to the scene.
Roddy, from Lymington Road - the only one of the pair charged under the Terrorism Act - also admitted sending threatening messages to Islamic organisations.
He was sentenced to 23 months in prison, suspended for two years, and ordered to receive supervision.
Ruth, of Morgan Avenue, Torquay, admitted distributing threatening written material intending to stir up religious or sexual orientation hatred, and causing criminal damage to a mosque.
He was jailed for 33 months.
The pair carried out 72 acts of graffiti around Torbay.
They started with Brixham police station and moved on to spray other public buildings, signs, walls and parked cars.
The most serious attack was on the Torquay Islamic Centre where the pair followed up racist graffiti with a threatening letter, the court heard.
Sentencing, Judge Francis Gilbert said at least one of the acts of damage "was motivated by racial hatred and that is a serious aggravating feature".
He said: "The communications you sent were intended to cause the fear of racial violence and there was plainly a racial element to that offence."
After the pair were convicted at an earlier hearing, Devon and Cornwall Police said people needed to be reassured that although they had "demonstrated an extreme right wing ideology with a particular hatred of Islam", they were "not part of a wider more organised group".
Det Insp Costa Nassaris, of Devon and Cornwall Police, said: "Although one of the offences is under the Terrorism Act, it is important to maintain a perspective on this and I can reassure people that there was not an immediate risk of serious harm to the general public."