Exmouth College parents fight 'outrageous' uniform cost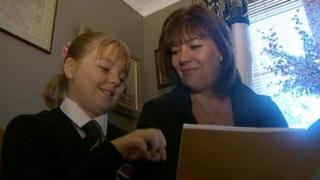 Parents are fighting to overturn the "outrageous" cost of uniforms at a Devon school.
Exmouth Community College requires pupils to buy three items of uniform from the school shop at a cost of more than £50 for larger sizes.
Single mother Liz Reynolds, 40, said: "It's putting more pressure on parents who are already struggling."
The school declined to comment, but told Ms Reynolds in a letter that it could help financially.
The government said this week it was taking measures to end single supplier uniforms.
'Overly-expensive uniforms'
Ms Reynolds, of Lympstone, forked out more than £40 for the jumper, tie and sports shirt for her daughter Gabby, 11.
"Twenty pounds for an acrylic jumper that is uncomfortable and doesn't last very long to me is not value for money," she said.
Ms Reynolds wants the school to change the policy, and says she has the support of nearly 200 fellow parents.
"Parents are being pushed to the wall," she said. "They are using food banks much more because they can't afford to feed their children.
"So how on earth are they expected to afford overly-expensive uniforms?"
She said the school had offered to help parents like her who were struggling with the cost of school uniforms.
"I think that's insulting," she said. "We are not here for handouts. We simply want a better option."
Schools minister David Laws said this week that schools in England will be told to end the practice of using a single uniform supplier.
He said: "It's too easy for schools to have these single supplier arrangements where parents can end up paying more than they need to.
"We want to make it as easy as possible for parents in these difficult times to buy school uniforms at a sensible cost."