Plymouth incinerator chimney is installed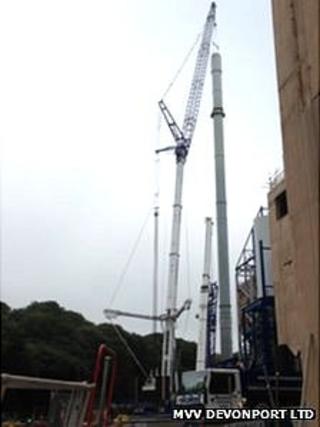 A 95m-high (310ft) chimney has been installed at a Plymouth waste to energy incinerator.
German company MVV is building the plant at the Devonport North Yard.
When finished, the incinerator will burn 250,000 tonnes of waste a year, producing enough energy to power about 37,000 homes, project managers said.
Local people have raised concerns about possible pollution, but the Environment Agency said it would not be a health risk.
The plant, which is still under construction, is to produce electricity and heat by burning rubbish from Plymouth and much of south and west Devon, MVV Devonport Ltd said.
The chimney was installed in four sections, beginning on Wednesday. The final part was installed on Monday morning.
The plant is due to start operating fully in 2015.