North Tawton solar 'Eco-Park' plan sparks anger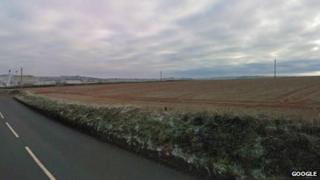 Countryside campaigners are fighting plans for a solar farm on 140 acres (56.6 hectares) of land in north Devon.
Kinetica Solar wants to build the solar farm, which it is calling an "Eco-Park", at North Tawton.
It said the solar farm would include an education and community resource, enhanced public footpaths and wildflower meadows.
But opponents said it was just a "sop" to the local community as there was already plenty of wildlife in the area.
The plans, which are due to go to West Devon Borough Council for consideration are for a 20 megawatt-capacity solar farm which the firm said would be enough to power 6,000 homes.
'Can't be happening'
Barbara Holroyd, who lives nearby, said: "I was absolutely horrified when I saw the plans.
"I thought this can't be happening. They seem to have thought because it's partly industrial it doesn't really matter if we have that there as well."
Penny Mills, from the local branch of Campaign to Protect Rural England, said: "There are three other solar farm applications in the area, so we have concerns about the cumulative effect and the visual impact."
Kinetica Solar said the aim was to "develop a green space which incorporates a range of educational and environmental resources, and to improve biodiversity and generate clean electricity".
It added that the scheme could "provide a boost to the local economy, create jobs, be a place that local children can learn more about renewable energy" and "play a part in helping West Devon move away from relying on fossil fuels".