Paignton Zoo welcomes mandrill baby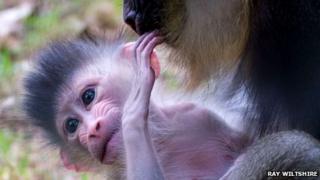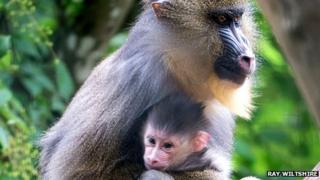 A primate, listed as vulnerable in the wild, has been born at a Devon Zoo.
The mandrill was born at Paignton Zoo on 11 September, to parents Marta and Jumanji.
The youngster's birth is an important contribution to the European endangered species breeding programme (EEP), a zoo spokesman said.
Despite their fearsome appearance, mandrills feed on fruit, fungi, insects, nuts, roots, seeds and small invertebrates.
The zoo's mandrill numbers are now up to seven; males Jumanji and Akello, females Makemba, Mirjam and Marta, a female baby born in January to mother Makemba and father Jumanji and named Jumba, and the as-yet un-named new arrival.
A baby mandrill is born after a gestation of five to six months.
A zoo spokesman said that threats to the species include habitat destruction and hunting.
The mandrill is listed as Vulnerable by the International Union for the Conservation of Nature (IUCN).