Hatherleigh Moor pond volunteers tackle 'invasive' weed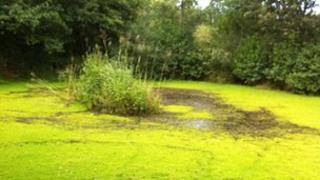 An aquatic weed that has taken over a large pond near Hatherleigh in West Devon will be stripped out by a team of volunteers.
The weed, known as Parrot's Feather, is native to South America but has taken hold at 300 sites across the UK, including at Hatherleigh Moor.
Parrot's Feather originally came to Britain through the aquatics trade and can overpower native species.
Volunteers will be using a dinghy and waders to remove the plant.
'Major challenge'
Matt Edworthy, from the North Devon's Biosphere Reserve, said: "It spreads because each little part of it, if you snap it off and drop it somewhere else, it could grow into some more.
"It is very invasive, and difficult to get rid of."
Mr Edworthy said the weed was "brought in for people with ornamental ponds and it spread from ponds into the natural environment".
Geoffrey Cleverdon, one of the volunteers, said: "It's very sad. There are one or two patches that show water.
"Anyone could be forgiven for walking into the water thinking they are walking on grass."
The area of the pond is roughly the size of two tennis courts. Mr Edworthy admitted it was "going to be a major challenge".
He admitted they would not be able to completely clear the weed from the area.
It is likely to return next Spring but it is hoped volunteers will also come back to tackle it.
Mr Edworthy said: "You never get rid of it completely but we will get on top of it. That will open the pond up, to bring back the dragonflies and newts. It could be so much better if we can get rid of this problem."