Ball clay B3193 road move protecting jobs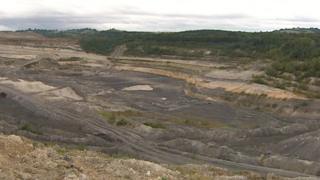 A £10m scheme to "move" a road in Devon will protect more than 100 local jobs, a clay company has said.
Sibelco is realigning the B3193 between Chudleigh and Kingsteignton to extract millions of tonnes of ball clay.
Devon is one of only a few locations in the world where ball clay - most commonly used in ceramic bathroom ware - is found.
By moving the road, Sibelco can extract about half a million tonnes of "saleable" clay for the next 50 years.
Ball clay, which has been quarried in the Bovey Basin of Devon since the mid-17th Century, is now exported to about 80 countries worldwide, with the main markets in Europe, North Africa and the Middle East.
A company spokesman said the road scheme, which had been planned "since the 1970s", was under way now because current supplies could start running out in a few years.
Cycle way created
"We've come to the point where we absolutely need the reserves, so the road is essential to us," Ray Bovey, from the company said.
Sibelco has estimated that there could be 24 million tons of premium grade ball clay under the site.
John Pike from the Ball Clay Heritage Society said the Bovey Basin was considered to have the biggest deposits of high quality ball clay in the world.
The ball clay mining industry employs about 180 people in Devon and is worth an estimated £25m a year to the local economy.
As part of the planning consent, Sibelco has created new playing fields and a cycle way along the route of the new road, which should be completed by June next year.
The clay used to be cut from open pits in cubes.
Its high plasticity - or stickiness - holds it together but prolonged handling means the corners become smooth and the cubes turned into balls - hence its name.