Devon free school 'causes class sizes rise' at state school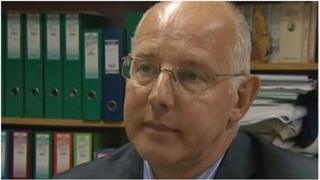 A head teacher claims he has had to increase class sizes at his state school because of competition from a nearby free school.
David Fitzsimmons, principal at Holsworthy Community College, in Devon, said he had lost 11 pupils to the Route 39 Academy, in Clovelly.
He said the loss would cost him about £45,000 from next year's budget.
Joss Glossop, from the academy, said it provided a choice for parents and was not about "bums on seats".
Mr Fitzsimmons said his school had expected to welcome just over 120 pupils this September, which would be taught in five groups of about 24 students.
However, because of the new academy, he said the school had missed out on 11 pupils which resulted in the remaining 111 students being taught in four groups.
He said: "Those 11 pupils that I haven't got in the current year seven, they're worth just over £4,000 each.
"In the summer we had to make staff redundant to balance the budget."
'Waste of public money'
Joss Glossop, principal of Route 39 Academy, which opened earlier in September, said: "My mind is on what is best for the children in this area.
"This is not about bums on seats, this is about what is right for education in this area and providing a new choice is the absolute right thing to do."
Mr Fitzsimmons said: "I categorically don't see there is the pupil demand."
He added that none of the four secondary schools in the area were "bursting at the seams" and "it is just a waste of public money".
School provision traditionally involved local authorities looking at the projected population of an area to ensure there would be enough places for pupils where they were needed.
However, the government-funded free school system means a new free school can be located regardless of the need for one in that area.
Conservative councillor David Simmonds, from the Local Government Association, said: "We're calling on the government to make sure the new schools are opening in areas of high demand, in places where mums and dads might not be able to find a school place."
The Department for Education said the vast majority of open mainstream free schools were in areas with the greatest pressure on places.
The academy is based at the old Clovelly Primary School which closed two years ago due to a shortage of pupils.
It hopes to move to a larger site with a capacity for 700 pupils, complete with a sixth form, by 2016.