Braunton flood defences upgrade work to begin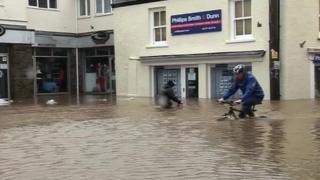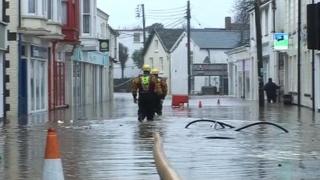 Work to upgrade flood defences in a north Devon town begin later.
In December, more than 60 properties were flooded in Braunton - six months after defences costing £1.2m were completed.
Despite the flooding, the Environment Agency said the defences on the River Caen protected dozens of homes.
The work, costing £100,000, includes raising about 330ft (100m) of embankment in the Memorial Gardens and sections of the riverside walls.
The agency said it would "offer a greater protection" for residents.
'Extreme circumstances'
Andy and Emma Beeston, who run the Corner Bistro Cafe in the centre of Braunton, said the weather in the run up to the flood on 22 December was "exceptional".
"It rained pretty much all the time from April to the end of December," Mrs Beeston said.
"When you have extreme circumstances like that, I'm not sure any defence can assist."
The cafe had 18 inches of water outside its doors when the village flooded.
"The water became an extension of the river and it was just a torrent of water flowing right through the square," Mr Beeston said.
"Braunton has flooded several times in the last century and when dealing with nature, wherever you plug a hole, the water will find somewhere else to come out."
Mr Beeston said that while he accepts flooding will always be a possibility in Braunton he hopes the new flood defences will give some extra protection.
"I think the defences will help and, if anything, they will give individuals and the Environment Agency possibly more time to react to a flood," he said.
'Improvements'
Jim Faux, from the EA, said the protection previously in place was meant to protect the area against all threats apart from a once-in-one-hundred years event.
"Amazingly, even this wasn't enough to contain the exceptionally high flows in the River Caen in 2012," he said.
"Put simply - the sheer volume of water coming down the river was more than our scheme was designed to take."
He added that the scheme had not been in place there would have been "ten to 20 times" more water flowing down South Street and 160 more properties could have been flooded.
"In doing these small improvements, this is keeping as much water in the river as we practically can," he said.
The December floods resulted from some of the highest flows ever recorded in the River Caen, with the last time the water was recorded as high, in 1894.
Work to upgrade the defences is expected to be completed by the end of October.