Totnes hosting first gay pride festival for town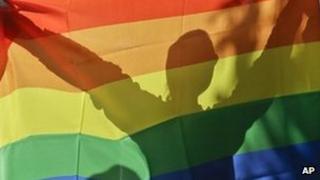 A Devon town is holding its first gay pride festival.
Proud2Be, which is organising Totnes Pride, said the festival would bring members of south Devon's lesbian, gay, bi-sexual and transgender (LGBT) community together.
Human rights campaigner Peter Tatchell is due to be the guest of honour.
Proud2Be said events during the festival would include a panel debate, workshops, talks and a party in the evening at the South Devon Arts Centre.
The organisation said it was believed to be the largest such event held in a rural UK town.
As well as Mr Tatchell, visiting speakers will include education specialist Elly Barnes, who topped The Independent on Sunday newspaper's Pink List 2011 - the rundown of the 250 most influential people in the LGBT community.
Totnes-based Proud2Be was launched two years by gay identical twin brothers Mat and Jon Price.
The organisation holds monthly get-togethers and other events across Totnes.