Driver Michael Tatem spared jail over 'Mexican friend' perjury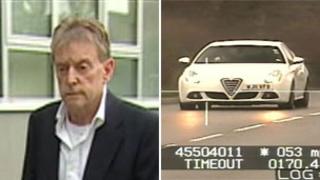 A man who claimed his car was driven by a Mexican friend to avoid a speeding conviction has been spared prison.
Michael Tatem, 64, from Tavistock, Devon, was clocked doing 53mph (85km/h) in a 40mph (65km/h) zone on Tavistock Road in Plymouth in January 2012.
He previously admitted committing perjury not under oath.
Plymouth Crown Court heard he suffered from multiple sclerosis, which affected his judgement. He was jailed for three months, suspended for two years.
'Persistent lie'
The court heard Tatem told police his Alfa Romeo was being driven by a man called Carlos de la Vegas.
The student housing landlord told officers he had met Mr de la Vegas in London and allowed him to go to his home and use his white Alfa Romeo Giulietta.
Police began a "lengthy investigation" after deciding his story was "incredible".
"No such person has been found to exist," said Alistair Verheijen, prosecuting.
Tatem, who owns six student houses in Plymouth, only admitted he was the driver after he was summonsed to court after failing to produce evidence of insurance cover for his Mexican friend.
Mackenzie Robinson, defending, said Tatem was suffering an "advanced stage" of multiple sclerosis.
His decision to lie to police was "affected by his condition".
Judge Paul Darlow said Tatem had "undermined the system of justice" with a "lie you persisted in for some time".
Tatem was also ordered to pay £1,000 costs.
After his conviction last month, Insp Richard Pryce of Devon and Cornwall Police, said such offences were treated "very seriously indeed."