Campaigners fear for North Devon hospital beds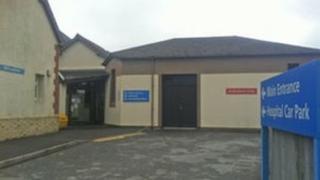 Beds could be closed at a Devon hospital and replaced with community care, health bosses have said.
The announcement was made at a public meeting on Thursday night attended by more than 100 people.
A trial to temporarily shut beds at Great Torrington Community Hospital and treat people at home was recently scrapped.
However, the Northern Devon Healthcare NHS Trust is still considering replacing 10 beds with community care
Margaret Brown, who lives in the area, said: "You won't convince Torrington that it is any better than 24-hour care. We want the beds kept open.
"People were leaving the meeting saying they were not convinced by things we've heard tonight."
Patients 'positive'
The NHS in North Devon said it had spent 18 months building up community staffing in the area to make sure there are enough resources to cope with demand.
They said patients wanted to stay at home if possible, and added that a "trial of change" was going down well.
Dr Chris Bowman, from the Devon NHS Clinical Commissioning Group, said: "Of the feedback we've had so far from patients it has all been positive.
"It is the patients who are experiencing the service who are feeding back that it is working.
"It is our belief that the beds are not needed but until we have undertaken this trial of change no decision has been made."
The NHS trust said that no decisions would be made without full public consultation.
A further public meeting will be held on 14 September at the Plough Arts Centre.