Plymouth-based HMS Argyll returns to Devonport Naval Base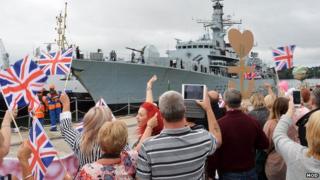 A Royal Navy warship which helped intercept six tonnes of cocaine has returned to Devonport Naval Base in Plymouth.
During its seven-month deployment, HMS Argyll covered 35,000 nautical miles and visited 16 countries.
The cocaine was seized while the Type 23 frigate was on patrol in the Pacific with the US Coastguard.
The ship's commanding officer, Cdr Tim Neild, said he was proud of the hard work put in by his crew.
'Band of Brothers'
"We have provided a most effective counter-narcotics capability during this period, and, when you consider the other roles we have undertaken during our seven-month deployment, Argyll has really showcased the capability and flexibility of a Royal Navy warship," he said.
The drug-smuggling boat and its crew was intercepted as the ship left the Panama Canal for the Caribbean.
The US director of the Joint Inter Agency Task Force praised HMS Argyll's actions and said its participation in the operation had been a "resounding success".
Cdr Neild said the range of operations undertaken had shown the "value for money that a most capable warship, such as HMS Argyll, provides".
"I am immensely proud of my 'Band of Brothers' for their commitment and professionalism throughout," he added.
During its time as part of an international task force to deter drug trafficking, the Royal Navy said HMS Argyll helped to disrupt the illegal supply of narcotics with a street value of $116m (£73m).
"Eagle One", the ship's Lynx helicopter, flew for more than 37 hours during the counter-narcotics operations and found "numerous suspicious vessels strongly suspected of smuggling".
The ship was also involved in saving the life of a Japanese fisherman who had been seriously injured in an accident at sea.
After a period of leave, HMS Argyll's crew will undergo training before being deployed again next year.