Newton Abbot, Bovey Tracey and Dawlish face end of CCTV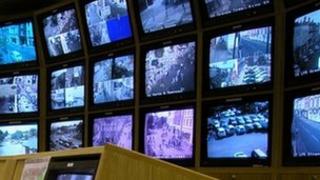 CCTV cameras which have aided more than 1,500 arrests could be cut in three south Devon towns.
Newton Abbot, Bovey Tracey and Dawlish could all be hit by the Teignbridge District Council cost-cutting move.
The council said it had to make cuts because it is receiving less money from the government and there is a freeze on council tax.
It has suggested that local businesses take over the system which costs about £40,000 a year.
CCTV cameras have been in the towns since 2004, but in 2011 the police withdrew their funding and the service was reduce to daytime coverage only.
A report to the council's executive next Tuesday says that since 2010 the cameras have been instrumental in more than 1,500 arrests and the recovery of stolen goods worth more than £111,000.
'Severe detrimental effect'
The annual cost of running the cameras, including the wages of one full time and one part-time worker, had been paid for by the council since 2011.
But the report says that the government's austerity budget means the council needs to "focus on key priorities".
Steve Henson, who chairs Newton Abbot Chamber of Commerce, said: "Last year there were 300 arrests made with the help of CCTV footage.
"Taking that system away will have a severe detrimental effect on the security of the town."
Council leader Jeremy Christophers said: "It is not our core business as a district council and it is not a statutory duty of ours.
"It's a nice extra and it's one of those extras that with funding falling from national government we feel it's difficult to meet that obligation."
He added: "If businesses want CCTV, it's way cheaper than it has been in the past to have their own systems.
"If the police felt it was a key component in convictions and keeping people safe they would have been investing in this alongside us.
"It's a tough decision, but it's one we are having to look at."