Torbay fire petition handed in to Downing Street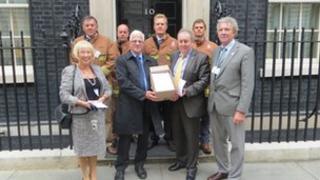 Firefighters campaigning against planned changes to the service have handed in a petition with 22,000 signatures to Downing Street.
Spending cuts of £5.5m to the Torbay area mean Torquay's second fire engine is being cut from full-time to on-call.
Firefighters say this will make it impossible for them to meet target response times.
But, Devon and Somerset Fire Authority said it will still be able maintain an effective service.
Firefighter Dave Crawford said: "We have attendance times to meet - one fire engine in 10 minutes and the second in 13 minutes.
"There is no way we are going to get a second fire appliance from Torquay to an incident in 13 minutes, when you have to call on our retained colleagues.
"They have to be called in from home or work, to pick the machine up at Torquay fire station and we have proved that they they can not reach the majority of incidents in that 13 minute time frame."
'Foisted upon us'
Susie Colley, chairman of the Torquay Neighbourhood Plan, led the delegation to Number 10.
Mrs Colley said she wants to have "Proposal 10" - which would see the reduction in full time cover for the town - thrown out.
She will also be handing in a letter via Torbay MP Adrian Sanders, requesting a formal meeting with the prime minister, along with fire unions' representatives to discuss alternative options.
"In the event that this cannot be arranged, I am considering that the next option will be to contact the European MP and ask for help from Europe in preventing this debacle from being foisted upon us," Mrs Colley said.
Mr Sanders added: "While the fire service needs to save money where it can, these cuts really don't make sense and could put lives at risk, especially during Torbay's busy holiday season.
"I will be urging the chief fire officer to urgently change his mind and I hope this petition shows the strength of local feeling."
'Several options'
The decision to make the cuts was taken by the fire authority, made up of 24 councillors from Devon and Somerset.
It agreed to spend an extra £450,000 on fire prevention and voted to buy some smaller fire engines, which cost £70,000 each but can carry almost all the same kit as the bigger engines.
Responding to concerns about response times, a spokeswoman for the service said: "There are several options within the Torbay area to achieve this response dependant on the location and scale of the incident.
"Wholetime appliances from Torquay and Paignton are available as well as on-call resources from Torquay,
"Paignton and neighbouring towns of Newton Abbot, Brixham, Totnes and Teignmouth for larger scale incidents."