Exeter charity anger at begging crackdown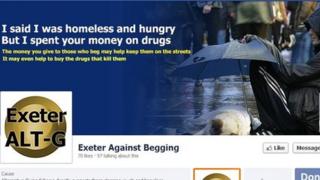 A begging crackdown in Exeter has come under fire from one of the agencies which worked on the campaign.
Exeter Community Safety Partnership, led by the city council and police, launched posters warning that beggars would spend donated cash on drugs.
Homelessness charity Shilhay Community, which took part in talks on the campaign, said the message was "hounding out the vulnerable".
Council leader Pete Edwards said it was not an attack on beggars.
'Socially divisive'
The campaign was launched with a poster campaign saying: "I said I was homeless and hungry. But I spent your money on drugs."
Shilhay said it had not seen the publicity material before it was published.
General manager Richard Crompton said: "The title of the campaign and its portrayal so far through this poster is at the very least misplaced, if not naive, and is understandably bound to cause offence.
"The community safety partnership is not about hounding out the vulnerable and disenfranchised of our society, quite the opposite actually."
The city council said it wanted to encourage people to donate to an alternative giving scheme, "where funds are channelled directly towards projects to help the homeless and those sleeping rough".
Mr Edwards added: "We appreciate that the campaign may be seen as controversial but this is a serious issue that does need addressing.
"The aim of the community safety partnership's campaign is to inform the public that giving money to people who beg could be doing more harm than good.
"This is in no way an attack on homeless or vulnerable people, it is an attempt to stop anti-social street activity that causes fear and unjustified guilt amongst members of the public."