Torbay drugs ringleader: 'Big fish in a small pool'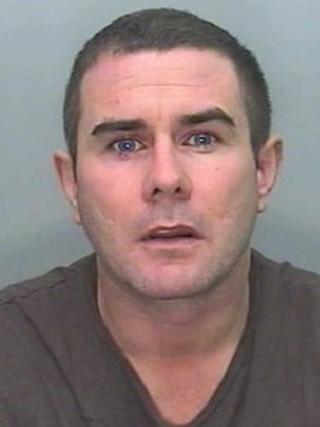 When out and about in Torbay, drug gang ringleader David Morrison was careful not to flaunt his wealth.
But away from the Devon seaside town, the 40-year-old was able to fund a lifestyle of foreign holidays and a home in Thailand.
Detectives said he was a "big fish in a small pool" who had so much money he stashed wads of cash in a punch bag.
His five-man drug gang was organised and greedy, and the police investigation into its movements resulted in the country's largest seizure of prohibited stun guns.
Morrison had previously spent more than six years in a Brazilian jail for drug smuggling and was arranging for large amounts of cocaine to be brought in to Torbay from Liverpool.
He funded the operation by selling counterfeit goods, including designer clothing, and potentially lethal stun guns disguised as mobile phones.
Morrison, from St Lukes Road South in Torquay, bragged about how he had anyone who crossed him beaten up and was recorded by police admitting he had "got away with it" for seven years.
But a covert police operation in 2011 gathered such overwhelming evidence that every member of Morrison's gang pled guilty.
'Cash rich'
Four of the men started their jail sentences in August and another a month later.
Morrison has now also been jailed after admitting conspiracy to supply class A drugs, the possession of prohibited weapons, and possession of criminal property.
Det Insp David Dale, of the Devon and Cornwall Police serious and organised crime investigation team, said: "Morrison was a key player in this area. He was targeted as we recognised he was causing a lot of harm in a relatively small area.
"He produced a gang of lackeys who assisted him with his drug supply. He was a relatively big fish in a small pool, and we were able to stop his supply and that will have a significant impact on the whole of Torbay."
Police described Morrison as "cash rich", and while he did not drive expensive cars, he took "a great many holidays abroad" to the USA, Turkey and Thailand - where he was also in the process of buying a house.
"He lived a good lifestyle, but was sensible enough not to be too flash when back in Paignton, because that would have drawn attention to his activities," Mr Dale added.
'Vicious weapons'
Police seized more than £100,000 in cash and more than 0.5kg of cocaine including some that was 62% pure.
"The cash itself, whilst a substantial amount of money, is a small amount of the cash that he had going through the system," Mr Dale said.
Undercover police officers spent hours filming the gang and recording their movements.
In an early strike in June 2011, officers watched as Morrison carried out a deal in the Shedden Hill car park in Torquay where he sold 58 stun guns.
The buyer was stopped by police on Torquay Road in Paignton and sentenced separately last year.
In total, police found 68 of the stun gun devices, which are at least twice as powerful than police Taser guns.
"This was the highest seizure of such weapons nationally in any time in the previous history," Mr Dale said.
"They were imported by him (Morrison) purely to put onto the streets.
"They are very vicious weapons, and if you were struck with one of these you would be sent flying across the floor and undoubtedly you could be very seriously injured."
Towards the end of the police operation officers intercepted a drug deal about to occur in Crewe, Cheshire.
Morrison and one of his "lackeys" travelled to buy a shipment of cocaine after Morrison had met with a contact in Liverpool.
Unbeknown to them, the pair were followed by police who swooped and arrested three people in a car outside Crewe railway station.
Inside the car was a brown parcel-taped package containing half a kilo of high-quality cocaine and a large envelope containing £12,500 in cash.
Trying to distance himself from the cash and drugs, Morrison had boarded a train home, but was intercepted by police on his way back from Liverpool towards Birmingham.
Now money from the drugs operation is going back into the community in Torbay.
Under government legislation the police have been able to give £1,500 to Hayes Road School in Paignton to create a sensory garden for able and disabled children to enjoy.