Ilfracombe's St Nicholas chapel struck by lightning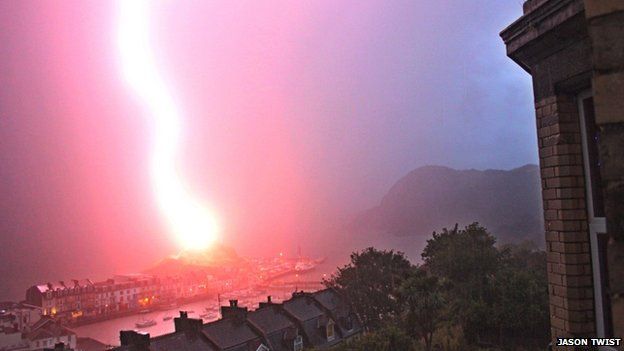 A freak bolt of lightning that struck an ancient chapel lighthouse in Devon has been caught on camera.
St Nicholas Chapel, built on Lantern Hill, Ilfracombe in the 14th Century, has been used as a lighthouse for hundreds of years.
Lightning struck the Grade I listing building on Friday night, smashing three of the dome's glass panels and damaging the electrics.
Its navigation light has since been replaced and the chapel reopened.
The moment the lightning strike hit the chapel was caught on camera by Ilfracombe resident Jason Twist.
"The storm was very impressive, so I grabbed my camera and started snapping about 500 photos," he told BBC News.
"My house overlooks the harbour so I was in the right place at the right time."
Owned by North Devon District Council, the chapel is run by the Rotary Club of Ilfracombe and the automated navigation light is looked after by the town's harbour master.
"It was quite a night - the storm was spectacular - but the damage could have been so much worse," Rotarian Ann Doody said.
"The light was fixed by an electrician on Saturday and although we still have to replace some the sockets, we've been able to reopen to the public."
Lighthouse keeper John Davey lived in the chapel for nearly 40 years in the mid 19th Century, raising a family of 14 children.
The Rotary Club restored it in the 1960s and created a small chancel in the old porch, which is occasionally used for services.
It is open to the public and the money raised by donations and the sale of postcards and souvenirs are given to charity.
Related Internet Links
The BBC is not responsible for the content of external sites.