Dartmoor prison closure: MP calls for redevelopment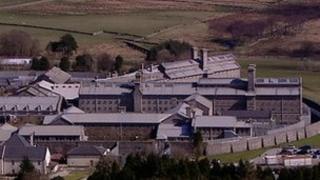 An MP is calling on the government to redevelop Dartmoor prison after announcing it was likely to close.
The category C jail did not have a "long-term future in a modern, cost-effective prison system", the government said on Wednesday.
Conservative MP for Torridge and West Devon, Geoffrey Cox, said he understood change was needed.
But he added he was still disappointed, and felt looking after the local community should be a priority.
Closure 'not imminent'
The Ministry of Justice said it was in talks with the prison's landlord, the Duchy of Cornwall, about the future of the jail.
It said a final closure decision was "a long way off" because its lease had a 10-year notice period.
However, it added the prison's age and limitations were of concern.
Minister Jeremy Wright said: "This decision was not taken lightly and is in no way a reflection of the hard work and commitment of staff, nor of the prison's performance.
"However, we cannot shy away from the fact that funds are limited and we need to make sure we are running prisons as efficiently as we can to maximise value for the taxpayer."
The prison, currently able to hold 653 inmates, was originally built in 1809 to hold French and American prisoners of war.
Although not open to visitors, the facility, in Princetown, does regularly attract sightseers, adding to the area's tourism industry.
The village is also home to some of the prison's 300 staff.
Mr Cox said that, if it was closing, people should "make a start to think about what we do to replace Dartmoor [prison] as the principal economic generator in the community".
He said: "It would be scandalous if the ivy was allowed to crawl up the walls and it fall to rack and ruin.
"I don't think it's an imminent closure, it will be some years, but it is something which is unique in the national consciousness.
"It is our duty to do something with it that is positive and useful for the future."
In January, a report by the Independent Monitoring Board for Dartmoor Prison said the illegal brewing of alcohol and drug use were "major problems" in 2012.
But it also acknowledged it was considered safe with low rates of violence.