Wartime orphan school evacuees reunited in Totnes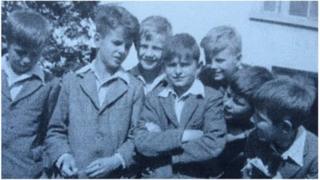 School friends evacuated to Totnes in World War II have been reunited in the town.
Children from Reed's School in Watford - also known as the London Orphans School - took over Seymour Hotel in Totnes for six years, from June 1940.
The reunion marks the 200th anniversary of the founding by philanthropist Andrew Reed of the school.
The school now operates privately in Surrey.
Once relocated to Totnes, the school took over local buildings as classrooms.
The Dart river steamer booking office became a fifth form classroom and what is the present riverside cafe was the upper and lower fourth form classrooms.
Totnes 'was heaven'
Former pupil Tony Wiggins said: "The school was a very Victorian establishment behind a brick wall, old fashioned with strict discipline.
"Suddenly we were in Totnes with the river alongside. We had small dormitories of five or six boys instead of 30 or 40.
"It was heaven."
He said that in the last year of the school at Totnes, paddle steamers restarted river trips to Dartmouth.
Sometimes boys had got on board at the quay and were late getting back to classes.
"Some people have no affection for their schooldays but we were fortunate to be here," Mr Wiggins continued.
"It's a very nice place to come back to."
The reunion of the Old Reedonians includes a service at St Paul's Cathedral and at The Festival Hall in London.