Exeter postman Darren Rowbotham's Royal Mail petition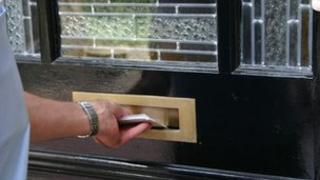 A Devon postman has collected 160,000 names on a petition opposing plans to privatise Royal Mail.
Darren Rowbotham, who has been a postman in Exeter for 13 years, is concerned it could affect the standard of service in rural areas.
The petition was "delivered" to Downing Street earlier by the postman.
But the Department for Business said Royal Mail would continue to provide deliveries to rural and urban areas six days a week "regardless of ownership".
Mr Rowbotham told BBC News he feared privatisation would result in a "degraded" service - particularly for communities in the countryside.
Strike ballot threat
"My biggest concern is the rural areas and the affect privatisation will have on their postal services," he said.
"It'll be a degraded service - the chances are they'll only have two deliveries [a week] instead of their daily deliveries."
Mr Rowbotham said at least 160,000 people appeared to share his fears about privatisation and he hoped the government would take notice of the petition.
A government spokesman said: "The minimum requirements of the universal service, the 'one price goes anywhere' six-day letters and five-day parcels service, are protected in law and can only be changed by Parliament."
Ministers have been urged to reconsider the privatisation by Labour MPs, union leaders and campaigners.
Mr Rowbotham, who is a local union representative, said he was also concerned about the impact privatisation would have on postal staff's working conditions.
In a recent consultative ballot, 96% of Communication Workers Union (CWU) members, which includes rank and file postal staff, voted against privatisation.
The union has said it intends to send out strike ballot papers later this month if agreement is not reached over guarantees for pay and pensions before the privatisation plans go ahead.
Royal Mail said any industrial action, or the possibility of disruption, was damaging to the business.
The Department for Business spokesman said any action taken by the CWU would not change the government's decision to sell shares in Royal Mail.
The privatisation will not affect the Post Office, which is now a separate company from Royal Mail.