MP Bradshaw in legal action query over Devon water cover-up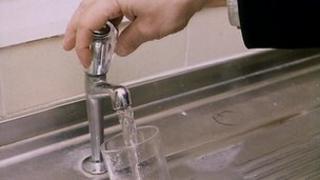 Exeter MP Ben Bradshaw has asked why Devon County Council is not taking legal action against a contractor for schools for breach of contract.
It follows revelations that an employee of Carillion, contracted to look after schools in Devon, deliberately doctored the result of a water quality test.
Iron was found at almost 10 times the legal limit but that figure was reduced by the member of staff.
The council said no-one was harmed. The company blamed one person acting alone.
'Deeper problem'
Carillion provides infrastructure services at six schools in Exeter, including St Peter's C of E School.
A reading there of almost 10 times the legal limit was deliberately reduced, a BBC investigation found.
A reading for iron which found 1,840 micrograms per litre was changed to 184 by an employee, documents released under the Freedom of Information Act revealed.
The legal limit is 200 micrograms per litre.
Pupils had to drink bottled water for several months.
The test was carried out because the school had already been experiencing problems with its water supply.
As a result, an investigation was launched which also revealed metal contamination in water supplies at the other five schools Carillion looked after.
Labour MP Mr Bradshaw said: "Why aren't they suing Carillion for breach of contract? I'm gobsmacked."
He added: "There is a much longer-term and deeper problem which is that, for years now, there have been problems, and Carillion and the county council have failed to get to grips with it.
"This is simply not acceptable. They have a public duty to do so, and I cannot for the life of me understand why Devon County Council has not been much, much tougher on this and got this problem sorted once and for all."
'Not harmful'
The council previously said that, after the falsification was discovered, it ordered independent tests of the water, and bottled water was brought in.
The council said it had "taken independent scientific advice on the health implications. We have been assured that although the levels are not compliant with the 2000 regulations, they are not harmful to health".
Carillion previously said: "The safety of staff and pupils has been paramount at all times and has driven all our decisions.
"At Carillion we pride ourselves on our strong values and high standards of corporate governance which shape the way we do business.
"Unfortunately, on this occasion, the actions of a single individual failed to meet our high standards."
The employee who falsified the result has left the company.