Plymouth woman Kelly Cruse has breasts remade with pig skin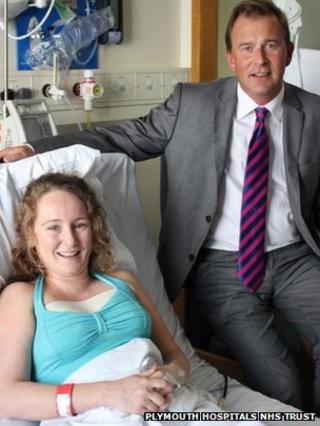 A mother who carries a hereditary cancer gene has had both her breasts removed and reconstructed using pig skin.
Kelly Cruse, 31, from Plymouth, was the first person to have the procedure at the city's Derriford Hospital.
The hospital said it was "very pleased" with how the surgery went on Wednesday.
Ms Cruse was told by experts that without surgery there would have been an 87% chance of developing breast cancer.
She said she was inspired by actress Angelina Jolie, who had a double mastectomy to reduce her chances of getting disease.
'Help others'
Cat breeder Ms Cruse said: "It wasn't really an option for me. It was more a matter of fact.
"Having a scan every year and waiting for cancer to happen wouldn't be right so having the operation would eliminate the risk of having cancer.
"It means I'll be around for my children and for my cats."
She hopes that by telling her story she will inspire other women in the region to be tested for cancer genes.
Better shape hope
"I asked my surgeon to do this particular surgery," she said.
"He was a little hesitant at first because it hasn't been around a long time.
"I'd like to think it will help others by going ahead with this type of surgery."
Antony Fitton, consultant in plastic and reconstructive surgery at Derriford, said that the hospital had been "waiting to see the results from other units" before performing "this relatively new technique".
He said: "We are very pleased with how Kelly's operation went today.
"It is still early days and we will monitor her recovery and outcome over the next few weeks.
"But we hope that this technique may produce a better and immediate restoration of breast shape compared to some of the traditional techniques."