Exeter Cathedral's west front revealed for first time in five years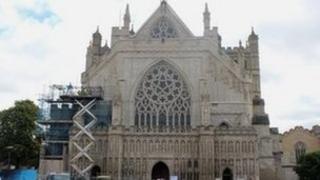 The fully restored frontage of Exeter Cathedral has been revealed.
The final bits of scaffolding have been taken down from around the west front of the cathedral, having been in place while a major restoration project was under way.
It is the first time in five years that the front of the building will be clear for people to see.
But the cathedral said work would begin on another part of the cathedral in six months' time
Restoration work has been carried out on the upper levels of the west front above the image screen - carvings, dominated by three rows of statues - which is considered one of the great architectural features of medieval England.
'Beautifully done'
The cathedral said while people will not see a big visual difference, the work will prevent further damage, with the aim that they will not have to revisit the same section again for another 70 years.
The Dean of Exeter, Jonathan Draper, said: "The scaffolding has finally come down now after effectively what has been a five year project to put the west end of the cathedral above the wonderful image screen into good condition.
"It has probably cost us about £300,000 so it has been a big, substantial, and now beautifully done, project."
Clerk of works for the project, Damian Lawrence, said further work would start in about six months, including conservation of the windows above St Edmund's Chapel.
"It's a very busy, vibrant, cathedral church, so the important thing is that we try to manage the work, so that there is minimum interruption and disruption to the experience of the visitors," he said.