Olympic rowing champ Mark Hunter faces snake phobia for charity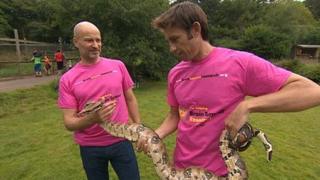 An Olympic rowing champion has faced his fear of snakes at a wildlife park.
Gold medallist Mark Hunter agreed to try and overcome a phobia as part of a charity fundraising event at Dartmoor Zoo in Devon.
He joined zoo owner Ben Mee for the launch of the Brain Tumour Research charity's Conquer it Together campaign.
Mark Hunter, a newly-appointed patron of the charity, got up close and personal with the creature he feared the most - a boa constrictor.
"For some people it might seem pretty small that I have a fear of snakes, but to me that was a pretty big deal to be able to hold one," he said.
'Courage and determination'
Hunter, who won gold in the lightweight double sculls with partner Zac Purchase in the Beijing Olympics of 2008 and a silver in the same event at London 2012, announced his retirement from rowing in July.
He said he usually avoided the reptile house when visiting zoos but he "psyched himself up" for his close encounter with the boa constrictor.
The charity hopes to raise £1m to build a new Centre of Hope dedicated to brain tumour research.
"My involvement with Brain Tumour Research has introduced me to people facing bigger challenges than this," Mark said.
"People diagnosed with brain tumours, yet living their lives as best they can with an intensity of courage and determination I have never encountered before."
Brain tumours kill more children and adults under the age of 40 than any other cancer.
But the charity said the disease receives less than 1% of the national government spend on cancer research.
'Terrible disease'
Dartmoor Zoo owner Mr Mee lost his wife, Katherine, at the age of 40, to a brain tumour shortly after buying the Zoo in 2006.
Their story became the subject of the Hollywood film "We Bought A Zoo" starring Matt Damon and Scarlett Johansson.
"It's a cause very very close to my heart," Mr Mee said.
"It's a terrible disease with less than 19% of those diagnosed surviving beyond five years.
"Compare that figure with the 50% average taken across all cancers and it's very clear something needs to be done about it."