Plymouth road resurfacing missed thanks to parked car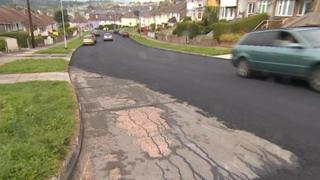 A patch of road in Plymouth was missed during resurfacing work because a vehicle was in the way.
Workers for Plymouth Transport and Highways decided to work around the parked car on Fletemoor Road in the St Budeaux area of the city.
Plymouth City Council said it was "disappointing" the road was not clear despite it putting notices and signs up a month beforehand.
It added that it would return to complete the work.
Clive Perkin, assistant director for transport and infrastructure, said the situation had been "frustrating".
He said: "We are undertaking a significant programme of resurfacing works across the city and, having given advance notice to residents of when we are arriving on their street, we cannot simply move to another road if vehicles are left in the way.
"Whilst we can return to the road later and complete the works to match in and seal the surface, this will incur additional costs that will inevitably reduce the overall amount of roads we can resurface from the available budget."