Carillion employee falsified Exeter school's water reading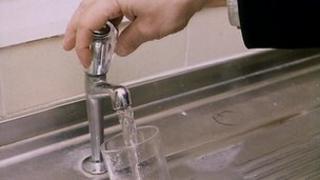 A company employee attempted to cover up a test result for the amount of iron in a school's water supply, a BBC South West investigation has found.
Carillion provides infrastructure services at six schools in Exeter, including St Peter's C of E School.
A reading there of almost 10 times the legal limit was deliberately reduced.
Devon County Council said it was "appalled" by the company's actions. Carillion said it was down to "a single individual".
The falsified document relating to St Peter's was discovered in January.
The test was carried out because the school had already been suffering problems with its water supply.
Students had to drink bottled water for several months after high levels of metals were found in the supply. Carillion was attempting to resolve the problem.
Legionella bacteria
However, a reading for iron which found 1,840 micrograms per litre was changed to 184 by an employee, documents released under the Freedom of Information Act revealed.
The legal limit is 200 micrograms per litre.
The employee later resigned, Carillion confirmed.
It said: "Unfortunately, on this occasion, the actions of a single individual failed to meet our high standards."
As a result, an investigation was launched which also revealed metal contamination in water supplies at the other five schools Carillion looked after.
It also found legionella, the bacteria which can cause Legionnaires' disease, in one school - West Exe College.
In a statement, Devon County Council said its evidence indicated no child or member of staff at the schools suffered ill health as a result of the water contamination or the legionella.
Carillion is paid to maintain the six schools under a private finance initiative (PFI).
The company said it replaced all drinking water fountains and maintained a supply of fresh, chilled bottled water to all of the schools.
It said an independent testing regime was being used to identify and test for any high metal readings.
At West Exe College, the firm said it had put several procedures in place including providing portable sinks, replacing and disinfecting pipes and adding filters to reduce contamination.
It added the "safety of school occupants had been paramount at all times".
PFI was introduced in the UK in 1992 to allow private companies to finance, build and run public sector projects such as hospitals, schools or prisons.
The story will be broadcast on Inside Out South West at 19:30 BST on Monday on BBC 1.