Dartmoor litter clean up costs authority more than £20,000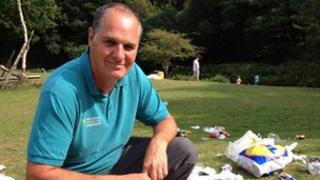 Litter left by visitors to Dartmoor National Park is costing more than £20,000 a year to clear up.
The Dartmoor National Park Authority said it was "fed up" with the amount of time and money spent on clearing up plastic bottles and fizzy drink cans.
Rangers are now going to work with police and local authorities to increase the number of patrols in the worst affected areas.
The authority said prosecutions would be brought "where appropriate".
The summer has attracted thousands of visitors to the moor which covers an area of 368 square miles.
It is the largest and wildest area of open country in the south of England - containing 40 sites of special scientific interest - and looked after by just 10 rangers.
The authority claims the current cost of disposing of litter is about £20,000 a year, but said this does not include the staff cost of rubbish collection, so the real cost is actually "much higher".
"Disgraceful"
Haytor and Spitchwick Common have been particularly badly affected this summer, the authority said.
Head ranger Rob Steemson urged visitors to "please act responsibly, and take it all home".
"We are fed up of clearing it up, but also, it is a lovely area," he said.
"It is very unsightly and not only that, it costs a lot of money to clear it away. We are not here to clear away litter."
Paul Blackmore, who lives near the moor, said: "It's disgraceful, it really is disgraceful. We can't believe that people have left it like this.
"We came down two weeks ago and it was horrendous then. There was a massive build up by the car park."