Careless Dartmoor parking 'could cost lives'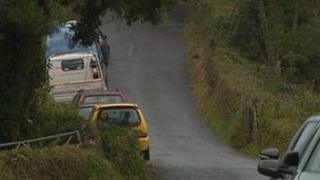 Motorists who parking carelessly on Dartmoor could cause lives to be lost during emergency call-outs, fire officers and national park staff say.
Parts of the moor have limited access because of narrow roads and lanes.
Devon and Somerset Fire Service said it was not just moor blazes it was concerned about, but also access to vehicle crash scenes.
It said there had been occasions when crews had struggled because of illegal or careless parking on roads.
Dartmoor National Park Authority head ranger Robert Steemson said problems occurred when people could not find spaces in moors car parks and so parked on roads.
The fire service and the park authority said they were trying to encourage motorists to be more aware of any risks they created and to think before they left their vehicles on the road.