Plymouth city centre and waterfont set for free wi-fi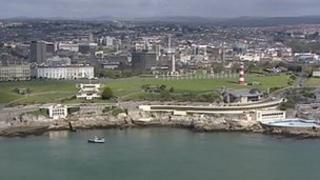 Central and waterfront areas of Plymouth could have free wi-fi as early as next year, the city's council says.
The city's cabinet is to be asked next month to give the go-ahead for a contract, which would bring no-charge wireless access by next spring.
It was part of a wider broadband strategy to help more people use the web to explore the city and access council services, the authority said.
The city's Chamber of Commerce has also backed the plans.
'More savvy'
The leader of the Labour authority, Tudor Evans, said the plans had "enormous potential to give people instant access to the information they want".
"We know this is what many people want and are beginning to expect," he said.
"If we want to increase the number of tourists coming here, we need to be more savvy.
"We can also keep our residents more in the loop with what we are doing."
The Chamber of Commerce said the plans showed the city was "modern and forward-looking".
It said: "It sends out all the right messages for potential investors as well as visitors."