Exe Estuary trail bridge pieces floated into place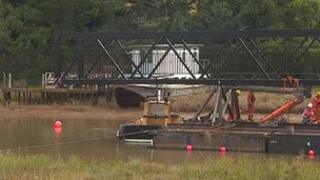 Pieces of a prefabricated bridge are being floated into place near Exeter as part of a cycle and walking trail.
Six sections, manufactured in Nottingham, make up the bridge, which is being erected as part of the Exe Estuary Trail.
Sections are being brought down the M5, bolted together at Exeter Quay and then floated on pontoons to the site, over the River Clyst at Topsham.
The bridge work, costing £1.7m, will be completed within a few weeks.
The pieces are to be jacked into position using hydraulics, project managers said.
When completed, the trail will be about 26 miles (42km) long, linking Exmouth, Exeter and Dawlish.
It is being developed and constructed by Devon County Council as part of the National Cycle Network Route 2.