Plymouth residents angry over solar panel tree felling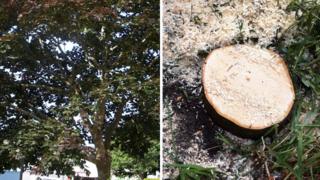 A decision to cut down "ancient" trees to improve the efficiency of solar panels on housing association homes in Plymouth has been branded a "massacre".
The trees at Hospital Road, Greenbank, were felled by contractors for Westward Housing Group.
Residents claim they were misled by the association which told them there would be a "little light pruning".
Westward said the decision to fell the trees was taken on the advice of Plymouth City Council.
Elaine McFadyen said she was devastated by the loss of the trees and furious at the way it was done.
'Too large'
"We got a flyer about two days ago telling us not to park outside as there was going to be some tree work," she told BBC News.
"When I phoned to ask about it, the housing officer told me there was going to be a little light pruning, but instead they've massacred them - they've killed my trees."
Another resident, who asked not be to identified, said she was angry at the lack of communication as much as the loss of the trees.
"It would have been nice to be kept informed," they said.
The association said it had installed photovoltaic panels to help reduce residents' electricity costs and improve the affordability of its homes.
"We identified that some of the trees were reducing the level of energy that could be provided and had planned to pollard (trim) the trees around Greenbank," an association spokesperson told BBC News.
"Our contractor attended a site meeting with Plymouth City Council to consider the works needed and, on their advice, it was identified that we needed to remove the trees as they are now too large for the site and would start to damage the buildings if left.
"We are sorry that we did not manage to communicate this to our tenants in time."
'Major worry'
Westward said although there were no preservation orders on the felled trees, it did intend to replace them with "more suitable trees".
"We will be visiting as many residents as possible today to explain the circumstances and we will work with our partners to gather a list of more suitable trees that can be planted and we will consult with our residents during this process," a statement said.
But Ms McFadyen said in her lifetime no new trees would be able to replace the "grandeur of these beautiful ancient trees" which had been part of the landscape for possibly hundreds of years.
"I do completely agree that the trees needed attention and some trimming, but what they've done is tragic," she added.
A city council spokesperson said: "If trees do not have preservation orders to protect them and are not in a conservation area, the responsibility of deciding whether to fell them lies with the landowner.
"In most cases the council would still try to preserve trees where appropriate by inviting the owners to discuss ways to minimise the works."
Plymouth Tree Partnership, an association of community groups and local organisations which works with Plymouth City Council and conservation charities to protect trees and promote their importance, said it would be willing to talk to residents and the housing association about what should happen next.
"Just to say trees will be replaced is a major worry because its about what they're replaced with and where," Andrew Young said.
"Let's do it properly and get the best planting scheme we can possibly manage."