Plymouth bars could face late-night drinks levy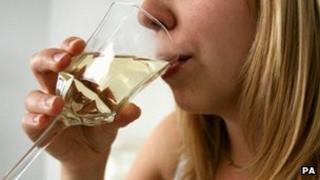 Plymouth could be the first place in Devon to make bars shutting in the early hours pay a charge to help cover the costs of policing.
The annual charge, of up to £4,500, would cover the costs of clearing up after the city's night-time activities.
Plymouth's clubs and pubs provide 2,700 jobs, and generate £60m.
The city council is currently consulting on plans to introduce a late-night levy as part of wider reforms to its licensing policy.
It is also asking people living in Plymouth what time they think bars should close.
'Additional powers'
The council said policing the night-time economy costs about £315,000 annually.
Street cleaning and NHS services also cost money, it said.
The council is looking at charging a late-night levy on businesses selling alcohol after 00:30 BST and before 06:00 BST to help pay for it.
Shaun Sawyer, the Chief Constable of Devon and Cornwall Police, said: "Places are open at three, four, five in the morning in Plymouth and other areas, I question that.
"Is it right your police officers are still working at three in the morning, not just at the weekends but in the week in some parts of this force?"
Chris Unwin, who runs pubs and night clubs in the city, said: "We already pay not just a little bit, a fortune, for those police officers already, by means of domestic and non-domestic rates. We also pay council tax."
The charges would range from £300 a year for the smallest businesses to just under £4,500 for larger ones, the council said.
Andrew Netherton, the council's licensing manager, said: "The government recently gave local authorities additional powers to introduce this levy.
"We are looking to seek a levy from those that trade beyond half past midnight.
"We have an agreement with the police commissioner that all the money we collect will be put in a ring-fenced account, which will be spent in Plymouth.
"How it's spent will be determined by the local authority and the police, with consultation with the trade."