Dartmouth Royal Regatta visitors to control drinking or face fine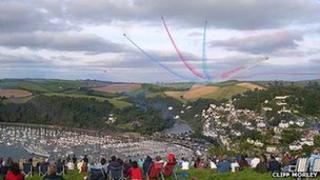 Temporary alcohol control zones have been put in place in Dartmouth ahead of this year's regatta.
Signs by South Hams District Council are warning against excessive drinking.
People who refused to stop drinking when asked by police could face a fine of up to £500 or risk arrest, the authority said.
The zones are in place for two weeks, including during the Port of Dartmouth Royal Regatta.
Devon and Cornwall Police said they would have extra officers on patrol, and the council said it was also putting up additional signs to remind people about rules on drinking in public areas.
'Irresponsible behaviour'
District councillor and chairman of the regatta committee, Jonathan Hawkins, said: "The signs should not be a barrier to people having a picnic and a glass of wine, but they are a tool to help the police deal with anti-social behaviour and alcohol-related incidents".
The district council, police and local licensees have been holding meetings in the run-up to the regatta about the best way to make the event enjoyable for everyone.
Inspector Andy Tomlinson, from Devon and Cornwall Police, said: "The regatta is a fantastic community and family event. Unfortunately, every year a small number of people threaten to spoil this through their irresponsible behaviour.
"Officers will be strictly enforcing the alcohol restrictions for anyone acting in an anti-social way and spoiling the event for others."
The control zone signs are in place until 2 September.