Plymouth men plotted to turn flat into drugs laboratory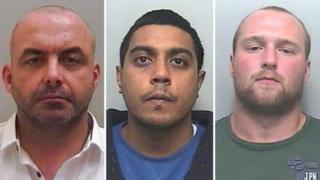 Four men have been found guilty of plotting to make ecstasy from a laboratory in a Plymouth flat.
The gang planned to sell thousands of pills of the Class A drug but were caught before any were produced.
Jon Curtis, Mohammed Habib and Samson MacNab, all from Plymouth, denied a conspiracy charge. A fourth man, known as Mr T for legal reasons, also denied the offence.
They were convicted after a seven-week trial at Plymouth Crown Court.
Gang falls out
The court heard the men formed a criminal gang between May and July 2011 and decided to make MDMA, also known as ecstasy, and sell it for a profit.
Habib, 30, and Mr T came up with the idea of manufacturing the drug before contacting the other members of the gang.
MacNab, 22, was the source of the chemicals, which he bought over the internet; and Curtis, 41, provided a flat, in St Barnabas Terrace, Stoke, for the laboratory, the court was told.
Devon and Cornwall Police said they believed the gang aimed to make between 3.1kg and 4.9kg (6.8lbs and 10.8lbs) of MDMA - enough for more than 30,000 ecstasy tablets - with an estimated street value of more than £300,000.
But the plot unravelled when gang members fell out with one another.
Police said that Mr T approached them following death threats from other members of the gang.
This started an 18-month investigation, which saw police seize mobile phones from all of the men, except MacNab.
Det Con Shaun Friend, of the Serious and Organised Crime Team for Devon and Cornwall Police, said: "Mr T was able to give us an insight into how the conspiracy worked, but obviously we needed to put that into evidence, so that we could bring in the other conspirators."
Police recovered a text sent by MacNab to Curtis which referred to 10,000 pills of 100 micrograms each.
Officers seized a number of drug-making items from Mr T's flat, but when they raided St Barnabas Terrace, they found the laboratory had been dismantled.
'Unsafe and untested drugs'
Det Con Friend said: "They attempted to make a massive amount of profit.
"They were not small drug dealers on the street, these are the people who are actually making the large substantial kilos of Class A drugs.
"Those drugs would have been available on the streets of Plymouth in an untested and unsafe state."
DC Friend said the case was "rare" in that they were able to "find the drugs before they were made".
Curtis, of Friars Lane, the Barbican; Habib, of Quarry Park Road, Peverell; MacNab, of Edith Avenue, Lipson; and Mr T are due to be sentenced next week.
Two other men charged with the same offence were found not guilty.