Damien Hirst's Verity: Ilfracombe to build on statue 'success'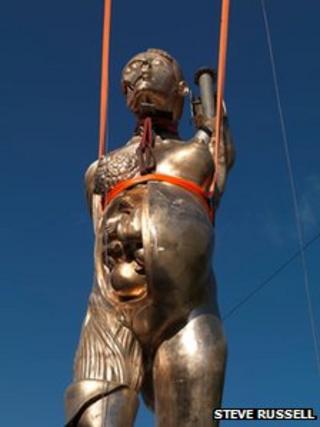 Damien Hirst's statue Verity has been hailed a success by councillors in Ilfracombe, now bidding for funding to regenerate the rest of the town.
The giant bronze statue of a pregnant woman split opinions in the town, but councillors said it has had a "tremendous effect".
Now final negotiations are under way to buy a land train that would take people around the north Devon town.
North Devon Council has successfully bid for £165,000 from a European fund.
The council said visitor numbers shot up when Verity was installed in October last year.
Regenerate the town
"It's had a tremendous effect," Mike Edmunds, district councillor for Ilfracombe East, said.
"It's attracted an awful lot of people that wouldn't have come to Ilfracombe, who have come down just to look at Verity because of the Damien Hirst influence.
"We can only look at it and say what a wonderful opportunity we have had here, it's beyond belief really the number that have seen here."
But Mr Edmunds said the main benefit of Verity had been in the harbour area and the council now wanted to concentrate on regenerating the high street.
Councillor Viv Gale, who has been involved in bidding for the funds, said: "It is really important that Ilfracombe now builds on Verity, upon it's popularity.
"It has that landmark, it has wonderful landscapes, wonderful walks, it is important that we build on that in every way we can to regenerate this wonderful town."
Part-funding
The Dotto land train, which will have an engine and two carriages, can hold 40 adults or 50 adults and children.
It will pick up and drop off visitors at attractions including the harbour and the swimming pool.
The council will meet next week to discuss part-funding the project.
The money already raised, from the EU Leader 4 Programme, which is used for regeneration projects, must be used by the end of November.
If the scheme is approved, the train could be made and delivered to Ilfracombe by mid-November.