Devon children's home used 'excessive' restraint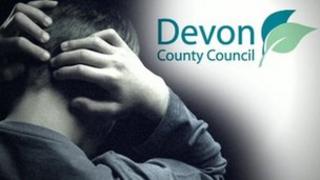 "Excessive and inappropriate" restraint was used in a Devon County Council-run children's home, a report has found.
Ofsted inspectors found unacceptable practices were used at the Rifford Road care home in Exeter.
Opposition councillors are demanding answers after the home's rating dropped from good to inadequate in six months.
The Conservative-led council said 11 members of staff had been suspended and new management was now in place.
A spokesman added that there would be no new admissions until it was satisfied lessons had been learned.
The report comes just months after Ofsted inspectors found child protection services in the county were also inadequate - the lowest of four rankings available.
The children's home provides planned and emergency short-term care for up to seven young people who have emotional or behavioural difficulties.
At the time of the report there were four boys aged 12 to 17 staying at the home. Three of these have since been moved out.
The Ofsted inspector, who visited in the home in July, said she found there was a "high number of physical interventions".
'Prone positioning'
The inspector found staff did not "always use effective de-escalation techniques", which sometimes led to an escalation of behaviour.
"The use of restraint has increased and high level restraints are used, including prone positioning," the report said.
"Many of these are judged to be inappropriate and excessive."
The report also stated staff did not "adequately follow up" any injuries suffered during a restraint.
The council said risk assessments had since been carried out on the children and they were "confident that they are safe and being well cared for".
Opposition councillors said they wanted to know what was being done to improve the care of children across the county.
Liberal Democrat Alan Connett said: "We need to ask the questions, who knew what, when did they know it and what did they do about it, because these are very serious issues."
'Action taken'
Conservative Will Mumford, who is responsible for children's services at the council, described the findings as "totally unacceptable".
"The most important thing is what action has been taken," he said.
"We have gone through a comprehensive range of issues and measures already, so staff have been suspended and most of the children, all bar one, have been moved on to alternative and frankly more suitable placements."
He said the council would be conducting a review and that is was already working with Children's charity Barnardo's to review all three of the council-run children's care homes.
"One of the key learning points for us is that the home, only six months ago, was rated as good and we need to find out why it moved from good to inadequate in quite such a short order and what the reasons are behind that," Mr Mumford said.
He added that a Children's Safeguarding and Looked After Children Improvement Board had also been set up to look at concerns raised in both Ofsted reports.