Plymouth's Civic Centre 'to become hotel'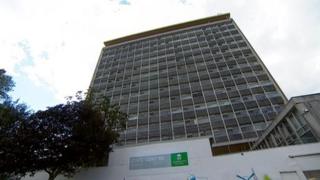 Plymouth's Civic Centre is to become a hotel, the BBC has learnt.
BBC Spotlight understands that a deal has been done which could see it turned into a four-star establishment run by the Hilton Group.
James Brent's Akkeron Group, which also owns Plymouth Argyle Football Club, has been appointed preferred bidder to redevelop the Grade II listed building before that, it is believed.
Business leaders said it could be a massive boost for the city.
'Greater confidence'
Tim Jones, of Devon and Cornwall Business Council, said Mr Brent's involvement was an important part of the redevelopment deal.
He said: "His confidence is something which will spill over into greater confidence in Plymouth."
Neither Akkeron or the city council have been available for comment, but the deal is expected to be rubber-stamped at a council cabinet meeting next month.
It is understood the redevelopment should also see the reopening of a top floor restaurant in the building.
The 15-storey civic centre, opened by the Queen in 1962, had been due to be demolished by the city's unitary authority in an effort to save money.
Plymouth City Council previously said the building was extremely expensive to maintain and not really serving the needs of the organisation.
However, that plan was quashed after English Heritage granted listed status in 2007.
After a marketing campaign failed to find a buyer for the centre, other proposals for the building included the council looking for companies that might buy it and lease parts back to the authority.