Exeter's Ernest Jones Rolex raiders jailed for robbery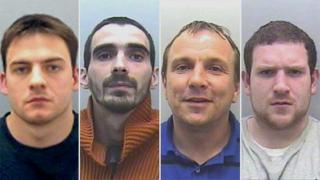 Four men who stole £208,850 worth of Rolex watches during a 51-second robbery in Exeter have been jailed.
The hooded men targeted a branch of Ernest Jones on the High Street on 11 February, Exeter Crown Court heard.
Robert O'Connor and Omar Mentesh used claw hammers to smash through toughened glass while a third man, Alistair McWilliams, kept look out and Alex Morgan acted as the getaway driver.
Judge Francis Gilbert QC said it was a "professionally planned robbery".
As he sentenced the men, the judge described the robbery as a "terrifying experience" for the store supervisor, who was putting the high-value watches on display at the time.
Showered with glass
The four men all admitted robbery and O'Connor also admitted money laundering.
O'Connor, 26, from Harpenden, Hertfordshire, and McWilliams, 27, from North London, were both jailed for nine years.
Mentesh, 31, from London, was handed an eight-year sentence, while Morgan, 37, from Barnet, London, got seven years and four months.
The shop supervisor, Nicola Bell, locked herself into the display area to try to stop the men reaching the watches.
But she was showered with glass, suffering cuts in the process, as they smashed down the door and grabbed 30 watches.
Ms Bell could not escape because she was still attached by a chain to the key which she used to lock the glass box.
While O'Connor and Mentesh carried out the raid, McWilliams put his hand inside his jacket as if he was armed with a weapon to stop passersby trying to help the store assistants.
Morgan waited outside in a Jaguar ready to speed out of the pedestrianised shopping street before police arrived.
Previous crimes
He drove the men to another car in the city and had three getaway cars in total, two with false plates.
Prosecutor Adrian Chaplin said the robbers planned the attack "meticulously" and were in and out of the shop in less than a minute.
All four men were on police bail over an another alleged crime of going equipped to steal, and all but Morgan were on licence from jail for other robberies and serious crimes they had carried out in the past.
Judge Gilbert praised the police operation to catch the gang, who were captured on CCTV cameras in the store.
The men were also seen around the city as they carried out surveillance on two different High Street jewellers the day before the 09:00 GMT raid.
The court heard that none of the watches were ever recovered.