Charity calls for Dartmoor Mires project to end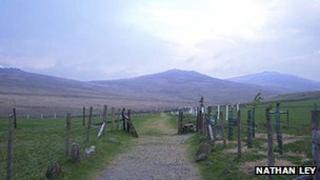 A group which works to protect Dartmoor has called for a £1m project on peat bogs to stop.
The Dartmoor Mires project has been launched to restore eroded areas on the moor.
Diggers are being used to create small dams to stop the loss of water.
The society said it was troubled by the work, but those behind the scheme said they were "working in a sensitive way" and were confident they would not do any damage.
The work, part of a five-year project, is being carried out at South Tavy Head on northern Dartmoor.
Ancient peat
Tom Greeves, from the Dartmoor Society, said: "There's so many aspects that are very troubling.
"Where they are working with the machines are rare bogs. They are plateau bogs with ancient peat.
"These areas have never been disturbed by human beings before so they're naturally evolving systems.
"They have rushed in and in our opinion quite recklessly changed a naturally evolving system."
The Dartmoor Mires project team said the erosion had been caused by small gullies in the peat.
The project is led by Dartmoor National Park Authority in partnership with Natural England, the Duchy of Cornwall, Dartmoor Commoners' Council, the Environment Agency, and South West Water.
'Will get worse'
Frances Cooper, the project officer, said: "We're relocating peat to form small blocks to stop water running through the gully and getting worse.
"We are working in a very sensitive way and we're confident we're not doing any damage. We very much hope the technique will prove successful."
The project team said it had commissioned research and had input from Natural England and the Environment Agency before the work started.
Mrs Cooper said the site was "worsening in terms of their erosion - if we do nothing the situation is only going to get worse".